7:26 PM
When products seem to be promising but they only end up to be at the final row of your makeup collection until you totally forgot to use t...
7:26 PM
Oh No! Disappointing Products
When products seem to be promising but they only end up to be at the final row of your makeup collection until you totally forgot to use them. I guess we all have some makeup and skin care items that will never be compatible to our skin or preference. You spent money and had good expectations but things are not always on the bright side. What are you going to do with them? In my case, I gathered them and present to as my disappointing products.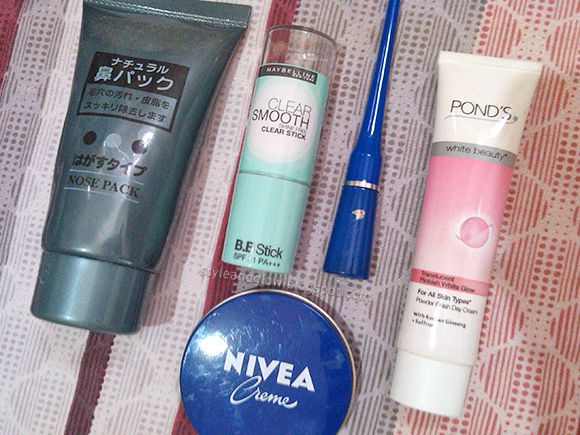 Nivea Creme
- This was my first legit moisturizer. I got this because my friend likes it and I have no other moisturizers in mind to try. First thing I noticed is the smell, it's good but it's so strong to the point that I'd rather stop breathing for a bit while I apply it. It's thick too. Those two are no-nos for me because I always look oily after I apply it. Grease ball alert!
San San Age Defense Liquid Eyeliner
- I ended up with this one because the eyeliner pen was out of stock. It's a felt tip dip liner which, I don't know, but I think it's not perfect for beginners.
(Just my opinion.)
I find it hard to use while practicing my eyeliner application. The tip is too stiff for my liking and it's not matte.
Watsons Moisturizing Lip Balm
(not in the photo) -
This doesn't feel like a lip balm on the lips. It's more of like a sticky lip gloss in an unhygienic packaging. Though I like the tint it has when worn. This product is also weird. I would usually take it off on my lips after I wake up and notice some skin peeling off. Like there's an exfoliation going on. That always happen whenever I leave it on my lips overnight.
Pond's Translucent Pinkish White Glow
- I don't know what's with Pond's products that I can't seem to like them. The facial washes, toners and even this one. This doesn't apply real smoothly on my face, I mean it's smooth at first but as you go on with your application there will be a tugging feeling.
Daiso Nose Pack
- The good reviews about this mask made me excited to try it out. And I was so happy when I finally got this. But the positive feelings suddenly shifted after I used it. It didn' work on me. I tried several times and it can only pull out two to three blackheads. Another downside is it pulls out facial hairs too which is always painful. I never thought that I'd be disappointed with this.
Maybelline BB Stick
- This comes with several bad points in it: the smell is awful - like sebo de macho, it only comes in two shades which are not suitable for medium and dark complexions, it accentuates dryness on skin and it has white cast on photos. Even on personal, my skins appears lighter than the rest of my body.
That's it for these not so worth buying products. Can you share your disappointing products, too? Just leave them below.